With more and more and the development of the Linux Operating System, especially the many free Linux distributions that we can use such as Ubuntu, Kubuntu, Fedora, PCLinuxOS and others, might make some who have never tried curious. For Windows users, there are alternatives to try without having to install on your computer, using a USB stick only.
Linux Live USB Creator supports various Linux distributions, more can be seen in
Supports Linuxes
. In addition to making the USB bootable Linux, with Lili, we also can make Linux run on windows directly without having to boot. Compared UNetbootin, its use is also much easier.
5 Easy Steps
To create a bootable Linux USB, this software provides 5 easy steps. When running the first time, direct-5 appeared to this step with easy to follow explanations. Following the initial view of this program: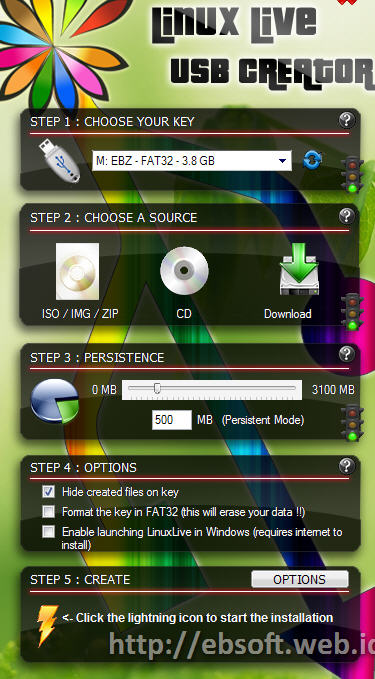 Explanation The steps are as follows:
Select

your USB stick

that

will be

filled

with

Linux, the

USB

should be

with

FAT

or

FAT32

format

.

If USB

is

FAT

or

FAT32

,

we

do not

need to

format it

.

This step

is

to choose

source

Linux distribution

, can be

from

a CD

-

ROM

,

an existing

ISO file

on

your hard drive

or

if

we

have a

fast internet

connection

,

select

Download

(

direct

download

from

the internet

)

PERSISTENCE

,

USB

is a

space

the size

settings

that will

be used

to store

data

,

which

we

change

the configuration

or

if

you

later

want to

install

additional software

on the

Linux

USB

.

If

this

is not

in

the content

(

0

MB

)

,

then

Linux

on

a USB

still

can

run

,

but

change

the data

on

linux

will not be

saved

.

And

we

can not

store data

in

linux

and

install

any additional

software

.

Step

4

There are

3

options

:

the

first

whether

the files that are

created

will

be hidden

(

hidden

),

both

if

the USB

will be

in

the format

(

all

data

will

be lost

)

and the

third

to

make

a portable version

on

windows

(

need

internet connection

)

Last time

step

is

CREATE

,

click

the yellow

lightning

icon

to

begin

the manufacturing process.

Previously

we

could

set

additional options

with the click

OPTIONS